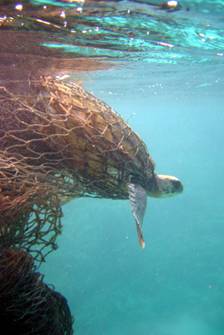 Marine Debris Module
created by Sandy Webb mrssandywebb@hawaii.rr.com
This module is a "toolkit" for teachers who want to teach their students about marine debris by looking at its impact on the Northwestern and Main Hawaiian Islands and performing related scientific investigations. It is designed for grades 4-12 and it is my sincere hope that this collection of "tools" will make it easy for teachers to inspire their students to become "student scientists" and stewards of the 'aina!
Aloha Fellow Educators!
As a member of the 2005 Educators at Sea crew, I was inspired by the beauty and abundance of life in the Northwestern Hawaiian Islands and the dedicated scientists who work to understand more about this wonderful place. My students at Mililani High School are another inspiration to me and the Student Scientist curriculum modules are my attempt to use the amazing kupuna islands, as the Northwestern Hawaiian Islands are sometimes referred to, as a means to inspire young people to learn more about scientific investigation by:
Actively examining issues related to the Northwestern Hawaiian Islands (NWHI) in a scientific way
Examining studies performed in the NWHI by "real scientists"
Developing and implementing their own related scientific investigations
Using the findings of their investigations to take positive actions related to stewardship in their own backyards
I learned that many others share my vision of students as scientists and community contributors! I invite you to join us and help your students become the citizens of tomorrow who will learn to live in harmony with their environment.

Sincerely,

Sandy Webb, Biology teacher,

Science Learning Center Coordinator, Mililani High School on Oahu.
Photo credits: Ray Boland and Jake Asher, NOAA Pacific Marine Fisheries Science Center, Carey Morishige, State of Hawaii, D.A.R.